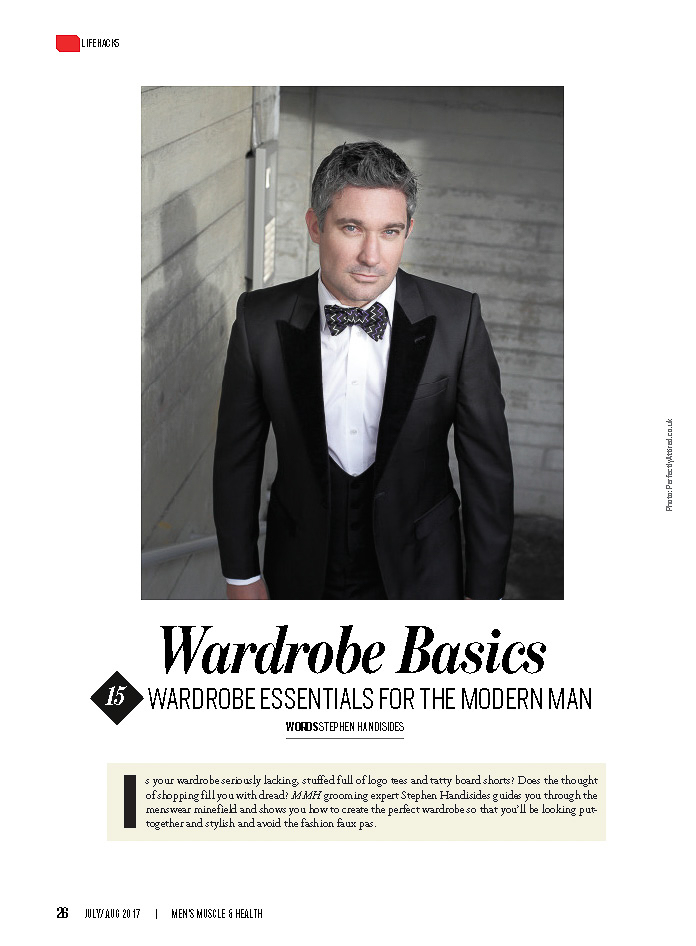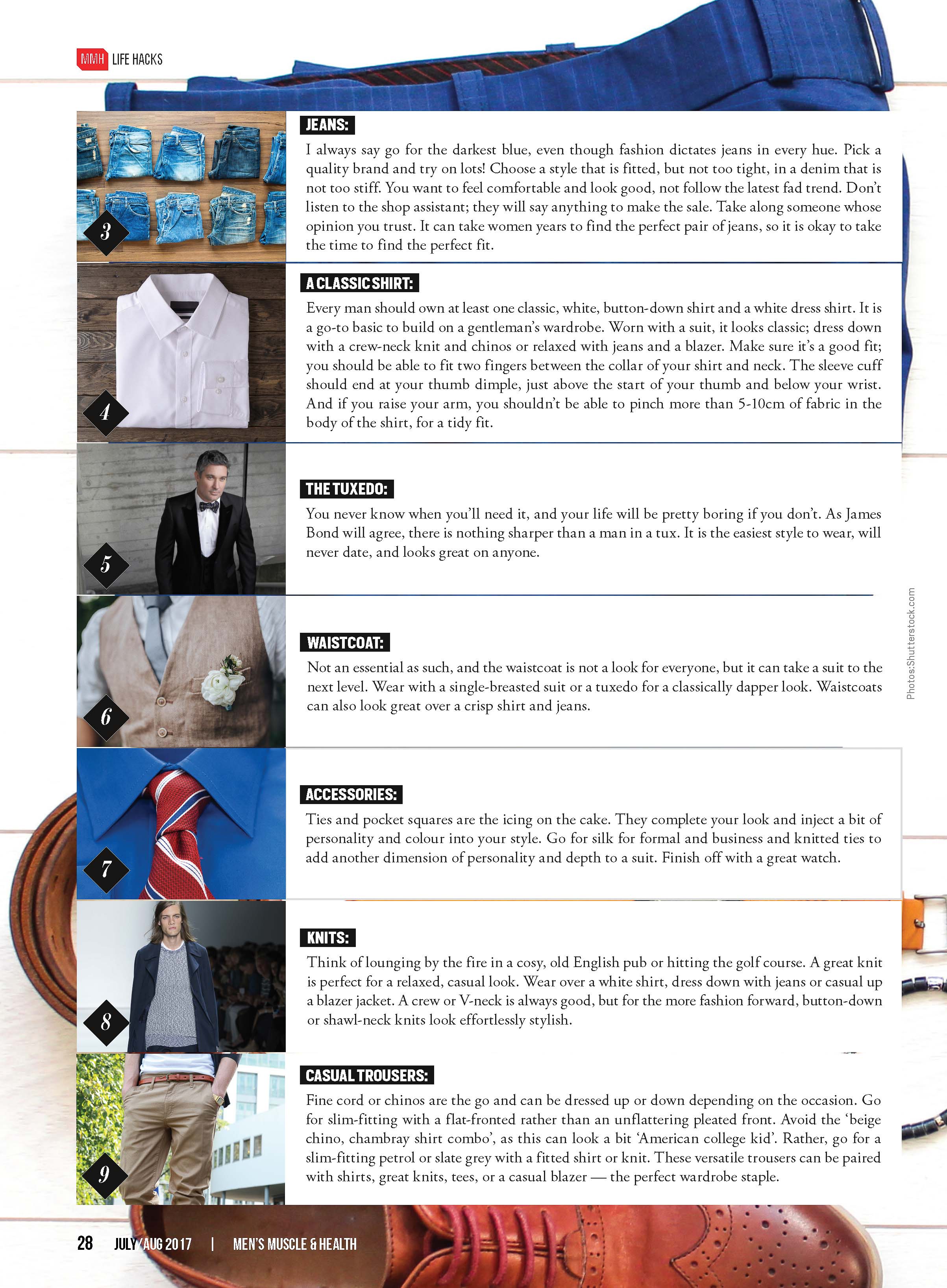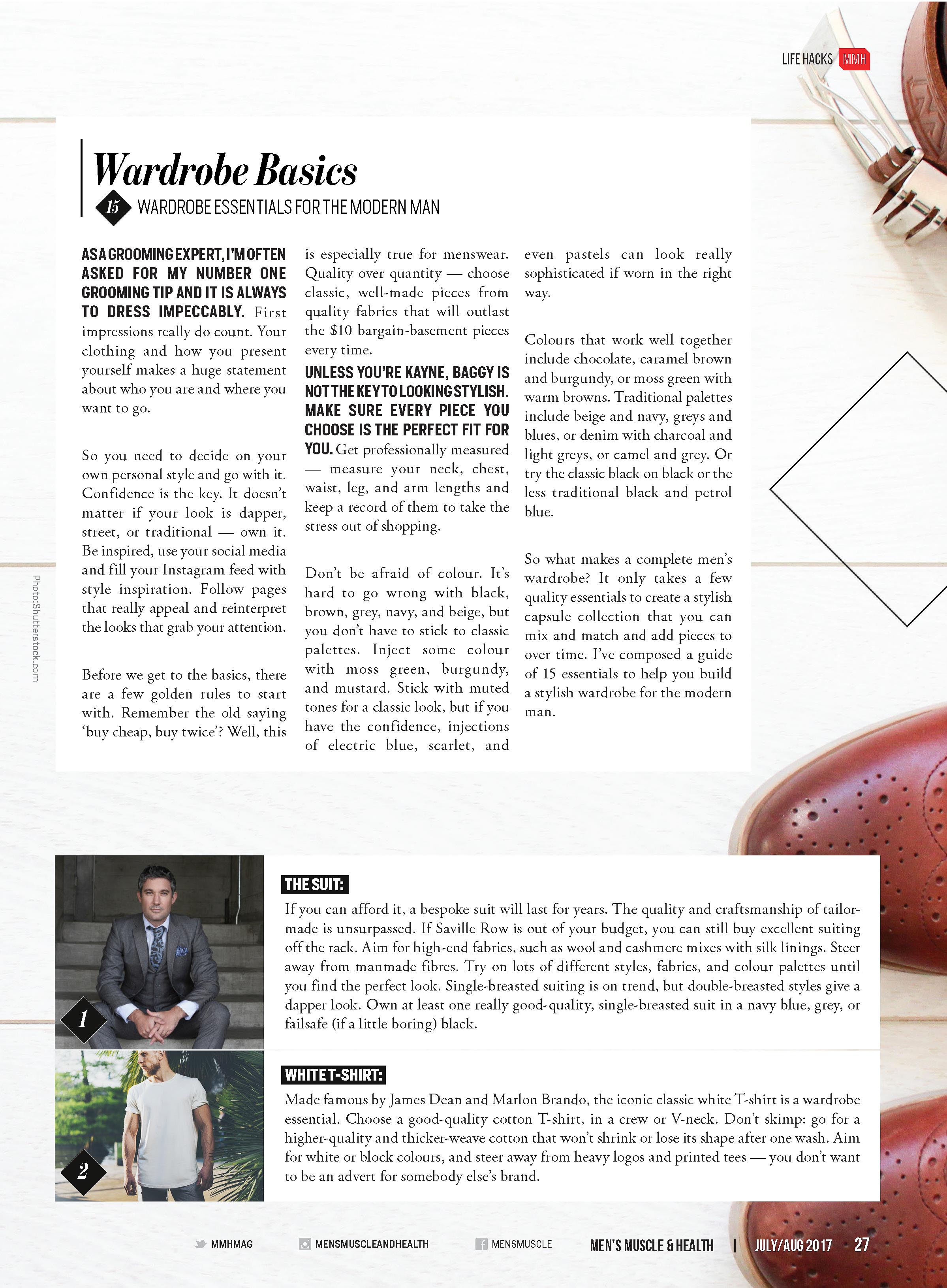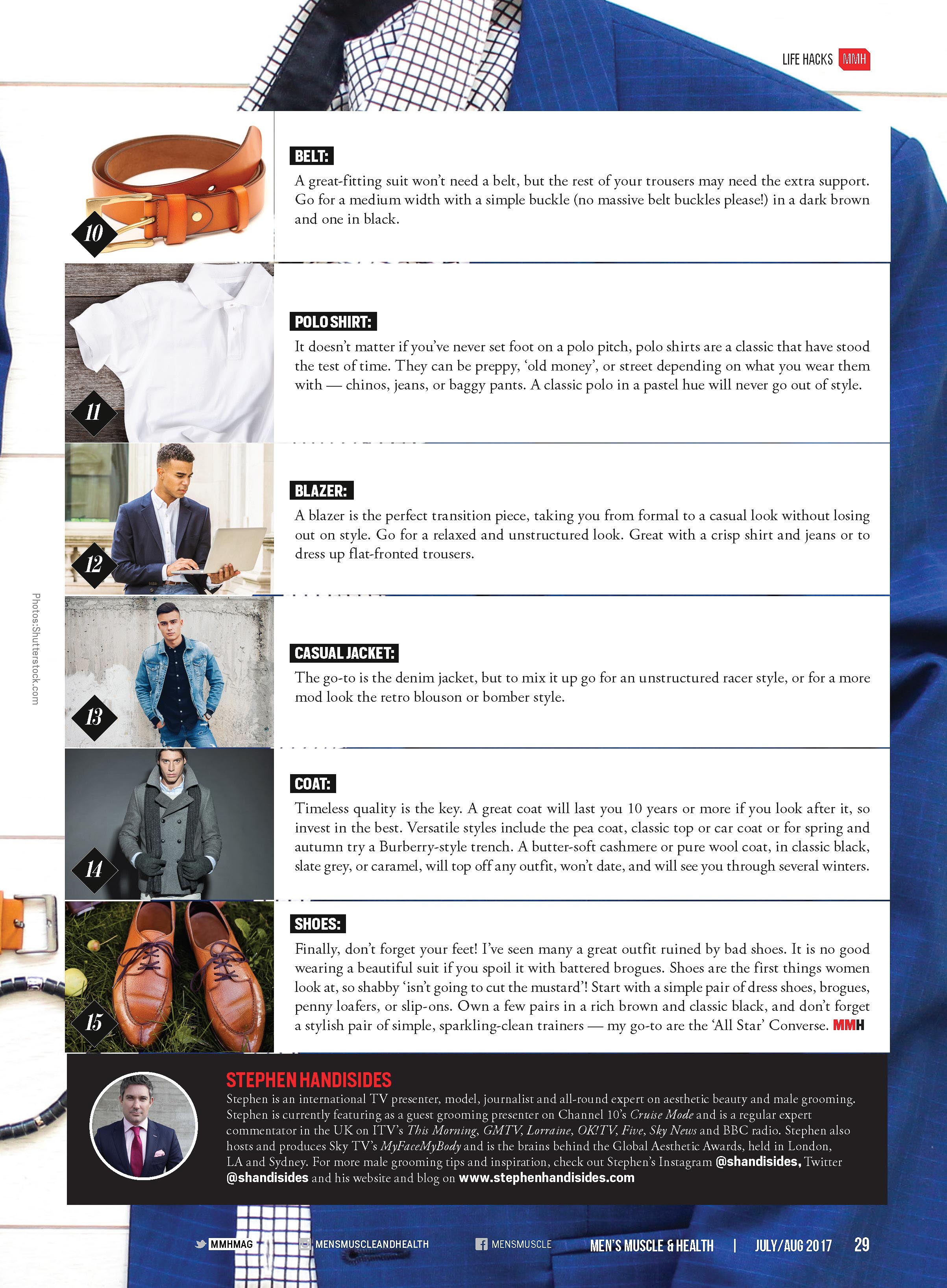 Life Hacks – Wardrobe Basics –
15 Wardrobe essentials for the modern male
Is your wardrobe seriously lacking, stuffed full of logo tees and tatty board shorts? Does the thought of shopping fill you with dread? In this issue, I'll guide you through the menswear minefield, and show you how to create the perfect wardrobe for the modern gentleman. With these basic's, you'll be looking put together and stylish, and avoid the fashion faux pas.
As a grooming expert, I'm often asked for my number one grooming tip and it is always, to dress impeccably. First impressions really do count. Your clothing and how you present yourself makes a huge statement about who you are, and where you want to go.
So, firstly, you'll need to decide on your own personal style and go with it. Confidence is the key, it doesn't matter if your look is dapper, street or traditional, own it. Be inspired, use your social media and fill your Instagram feed with style inspiration. Follow pages that really appeal and reinterpret the looks that you grab your attention.
Before we get to the basic's there are a few golden rules, so let's start. Remember the old saying 'buy cheap, buy twice' well this is especially true for menswear. Quality over quantity, choose classic, well-made pieces from quality fabrics that will outlast the $10.00 bargain basement pieces every time.
Unless your Kayne, baggy is not the key to looking stylish. Make sure every piece you choose is the perfect fit for you. Get professionally measured, include the neck, chest, waist, leg and arm length and keep a record of the measurements to take the stress out of shopping.
Don't be afraid of colour. It's hard to go wrong with black, brown, grey, navy and beige, but you don't have to stick to classic palettes. Inject some colour with moss green, burgundy and mustard. Stick with muted tones for a classic look, but if you have the confidence injections of electric blue, scarlet and even pastels can look really sophisticated, if worn in the right way.
Colours that work well together include, chocolate, caramel brown and burgundy, or moss green with warm browns. Traditional palettes include beige and navy, greys and blues, or denim with charcoal and light greys, camel and grey. Or try the classic black on black or the less traditional black and petrol blue.
So, what makes a complete men's wardrobe? It only takes a few quality essentials to create a stylish capsule collection that you can mix and match and add pieces to over time. I've composed a guide of 15 essentials to help you build at stylish wardrobe for the modern man:
The suit – If you can afford it, a bespoke suit will last for years. The quality and craftsmanship of tailor-made is unsurpassed. If Saville Row is out of your budget you can still buy excellent suiting off the rack. Aim for high end fabrics, such as wool and cashmere mixes with silk linings. Steer away from manmade fibres. Try on lots of different styles, fabrics and colour palettes until you find the perfect look. Single breasted suiting is on trend, but double breasted styles give a dapper look. Own at least one really good quality single-breasted suit in a navy blue, grey or failsafe (if a little boring) black.
White t-shirt – Made famous by James Dean and Marlon Brando, the iconic classic white T-shirt is a wardrobe essential. Choose a good quality cotton T-shirt, in a crew or v neck. Don't skimp, go for a higher quality and a thicker weave cotton that won't shrink or loose it's shape after one wash. Aim for white or block colours and steer away from heavy logos and printed tees, you don't want to be an advert for somebody else's brand.
Jeans – I always say go for the darkest blue, even though fashion dictates jeans in every hue. Pick a quality brand and try on lots! Choose a style that is fitted but not too tight, in a denim that is not too stiff. You want to feel comfortable and look good, not follow the latest fad trend. Don't listen to the shop assistant, they will say anything to make the sale. Take an along someone who's opinion you trust. It can take women years to find the perfect pair of jeans so it is ok to take the time to find the perfect fit.
A classic shirt – Every man should own at least one classic white button down shirt and a white dress shirt. It is a go to basic to build on a gentleman's wardrobe. Worn with a suit, it looks classic, dress down with a crew neck knit and chinos, or relaxed with jeans and a blazer. Make sure it's a good fit, you should be able to fit two finger between the collar of your shirt and neck. The sleeve cuff should end at your thumb dimple, just above the start of your thumb and below your wrist. And if you raise your arm, you shouldn't be able to pinch more than 2-4 inches of fabric in the body of the shirt, for a tidy fit.
The Tuxedo – You never know when you'll need it and your life will be pretty boring if you don't. As James Bond will agree, there is nothing sharper than a man in a tux. It is the easiest style to wear, will never date and looks great on anyone.
Waistcoat – Not an essential as such, and the waistcoat is not a look for everyone, but it can take a suit to the next level. Wear with a single-breasted suit or a tuxedo for a classically dapper look. Waistcoats can also look great over a crisp shirt and jeans.
Accessories – Ties and pocket squares are the icing on the cake. They complete your look and inject a bit of personality and colour into your style. Go for silk for formal and business and knitted ties to add another dimension of personality and depth to a suit. Finish off with a great watch.
Knits – Think of lounging by the fire in a cosy old English pub or hitting the golf course. A great knit is perfect for a relaxed casual look. Wear over a white shirt, dress down with jeans or casual up a blazer jacket. A Crew or V neck is always good, but for the more fashion forward a button down or shawl neck knits look effortlessly stylish.
Casual trousers – fine cord or chinos are the go and can be dressed up or down depending on the occasion. Go for slim fitting with a flat fronted rather than an unflattering pleated front. Avoid the 'beige chino, chambray shirt combo', as this can look a bit 'American college kid'. Rather go for a slim fitting petrol, or slate grey with a fitted shirt, or knit. These versatile trousers can be paired with shirts, great knits, tees or a casual blazer, the perfect wardrobe staple.
Belt – A great fitting suit won't need a belt, but the rest of your trousers may need the extra support. Go for a medium width with a simple buckle, (no massive belt buckles please!) in a dark brown and one in black.
Polo shirt – It doesn't matter if you've never set foot on a polo pitch, polo shirts are a classic that have stood the test of time. They can be preppy, 'old money' or street depending on what you wear with them with. Chino's, jeans or baggy pants. A classic polo in a pastel hue will never go out of style.
Blazer – A blazer is the perfect transition piece, taking you from formal, to a casual look without losing out on style. Go for a relaxed and unstructured look. Great with a crisp shirt and jeans or dress up flat fronted trouser.
Casual Jacket – The go to is the denim jacket, but to mix it up go for an unstructured racer style, or for a more mod look the retro blouson or bomber style.
Coat – Timeless quality is the key. A great coat will last you 10 years or more if you look after it, so invest in the best. Versatile styles include the pea coat, classic top or car coat or for spring and autumn try a Burberry style trench. A butter soft cashmere or pure wool coat, in classic black, slate grey or caramel, will top off any outfit, won't date and see you through several winters.
Shoes on your Feet – Finally, don't forget your feet! I've seen many a great outfit ruined by bad shoes. It is no good wearing a beautiful suit, if you spoil it with battered brogues. Shoes are the first things women look at, so shabby 'isn't going to cut the mustard!' Start with a simple pair of dress shoes, brogues, penny loafers, or slip ons. Own a few pairs in a rich brown, classic black and don't forget a stylish pair of simple sparkling clean pair of trainers, my go to are the 'All Star' Converse.
Stephen Handisides is an international TV presenter, model, journalist and an all-round expert on Aesthetic Beauty and Male Grooming. Stephen is the host of 'The Modern Face of Beauty' series which will be broadcast on 52 local and national television networks in the US reaching 44 million households. He is regular expert commentator in the UK on ITV's This Morning, GMTV, Lorraine, OK! TV, Five, Sky News, and BBC radio. Stephen writes for over twenty major newspapers, trade and consumer magazines, with five regular columns focusing on the trends in lifestyle aesthetics and male grooming. He also hosts and produces Sky TV's MyFaceMyBody and is the brains behind the Global Aesthetic Awards, held in London, LA and Sydney.
For more male grooming tips and inspiration, check out Stephens Instagram @shandisides Twitter @shandisides and his website and blog on www.stephenhandisides.com 
Picture credits PerfectlyAttired.co.uk