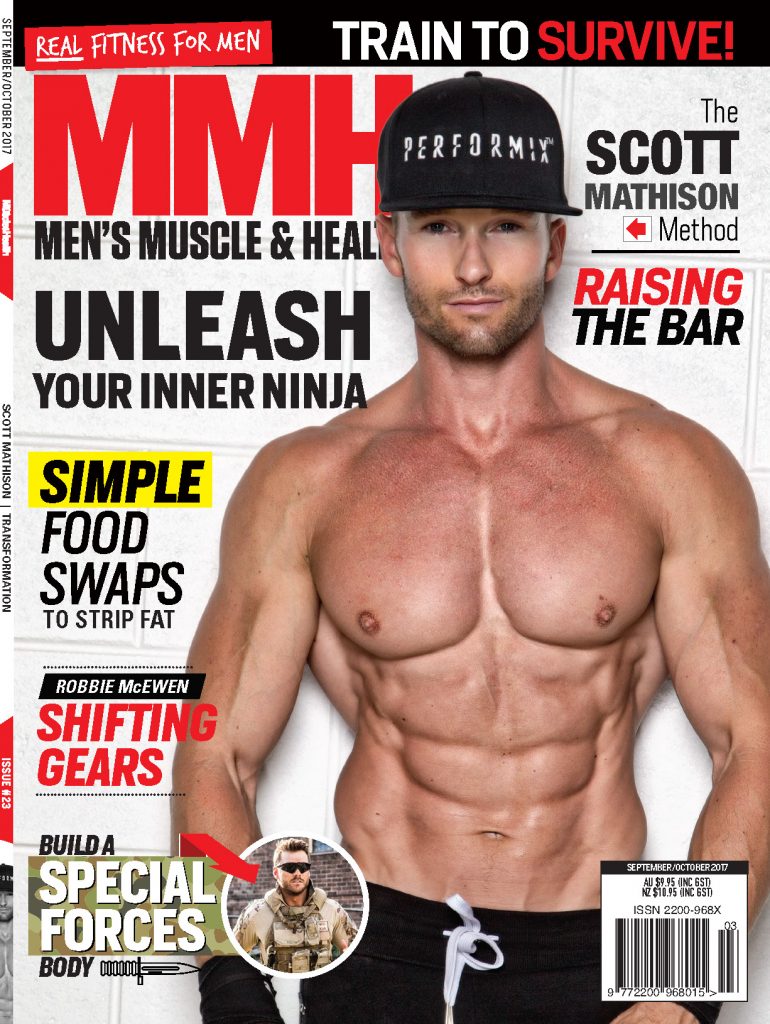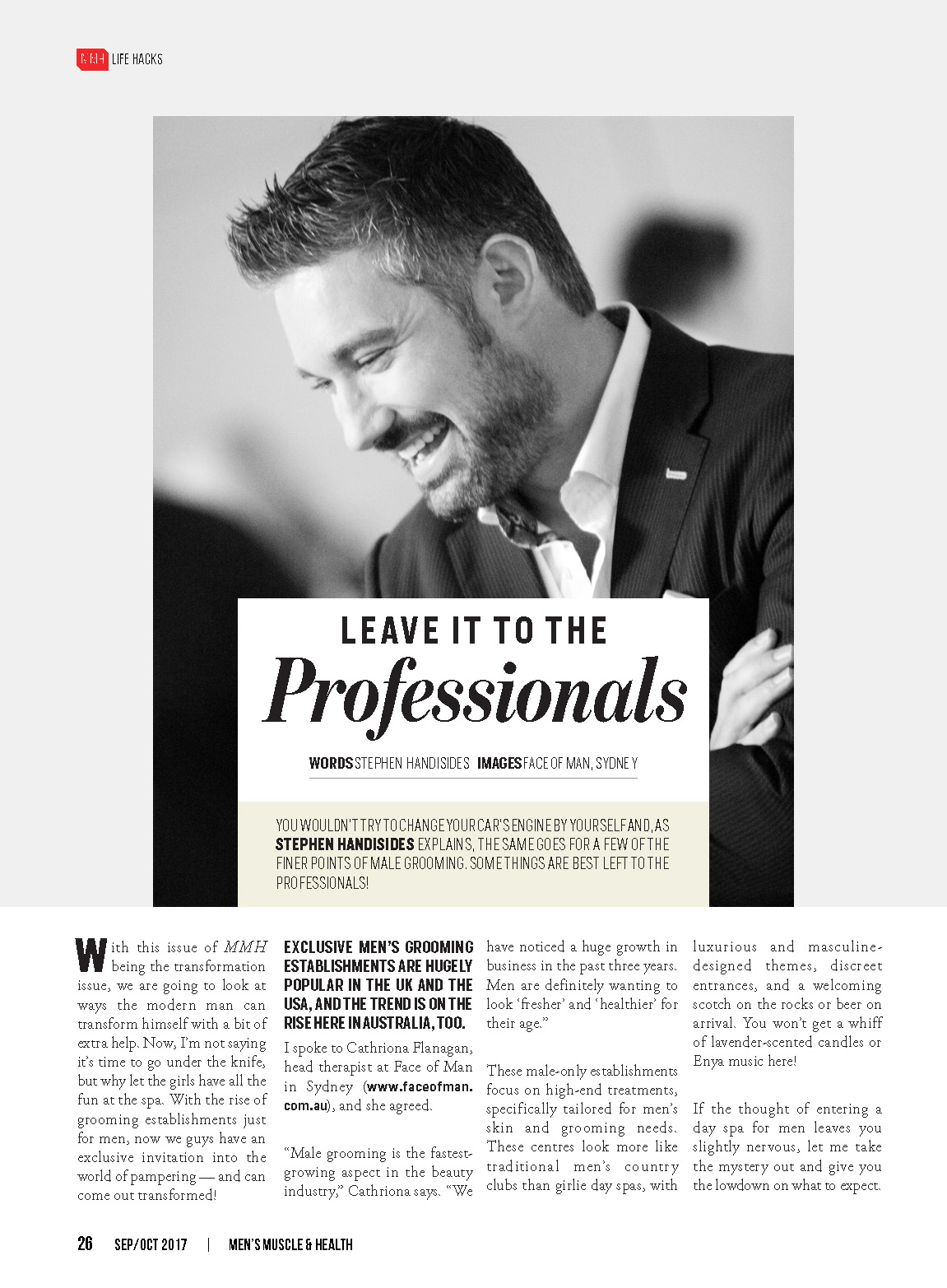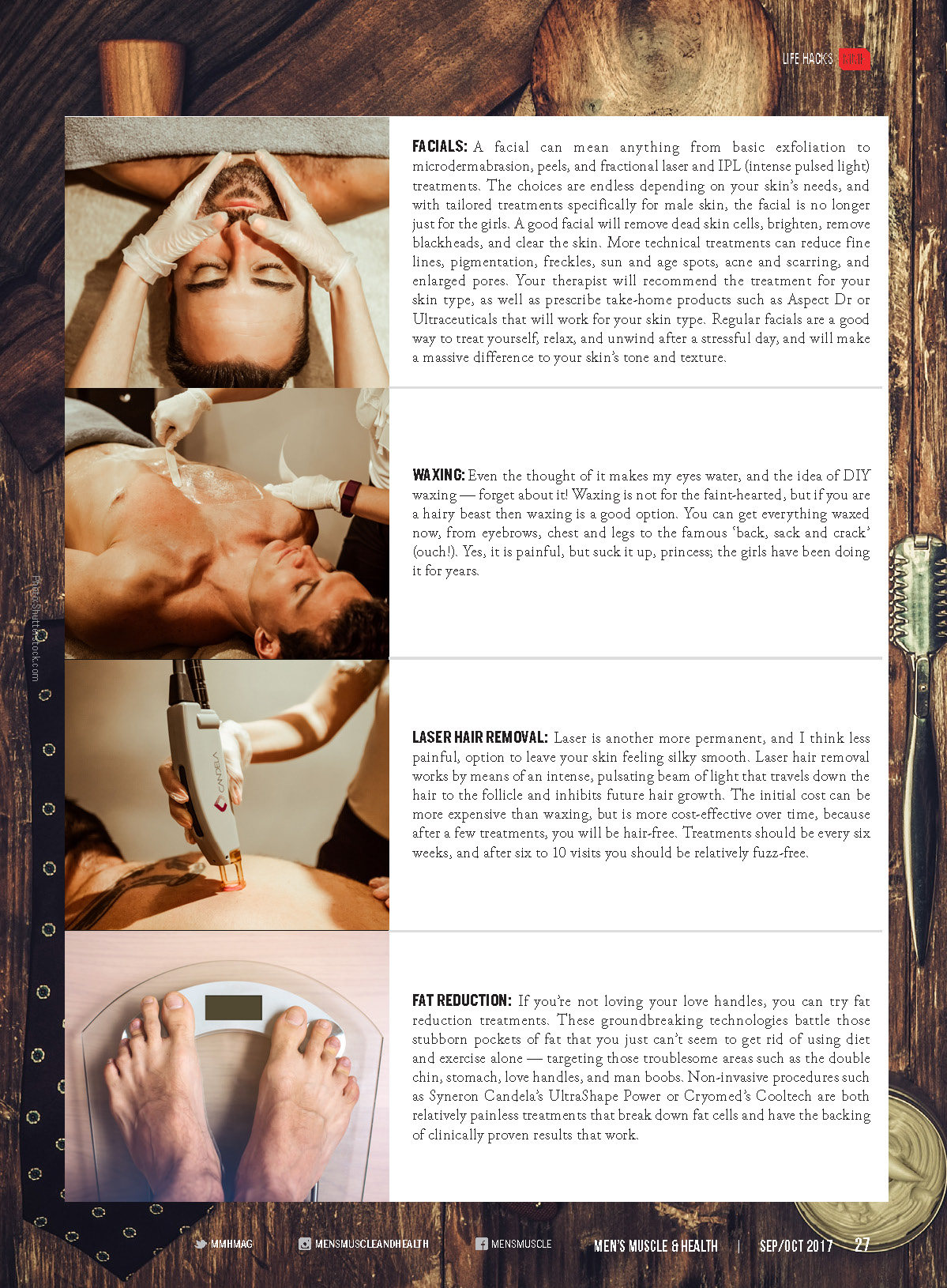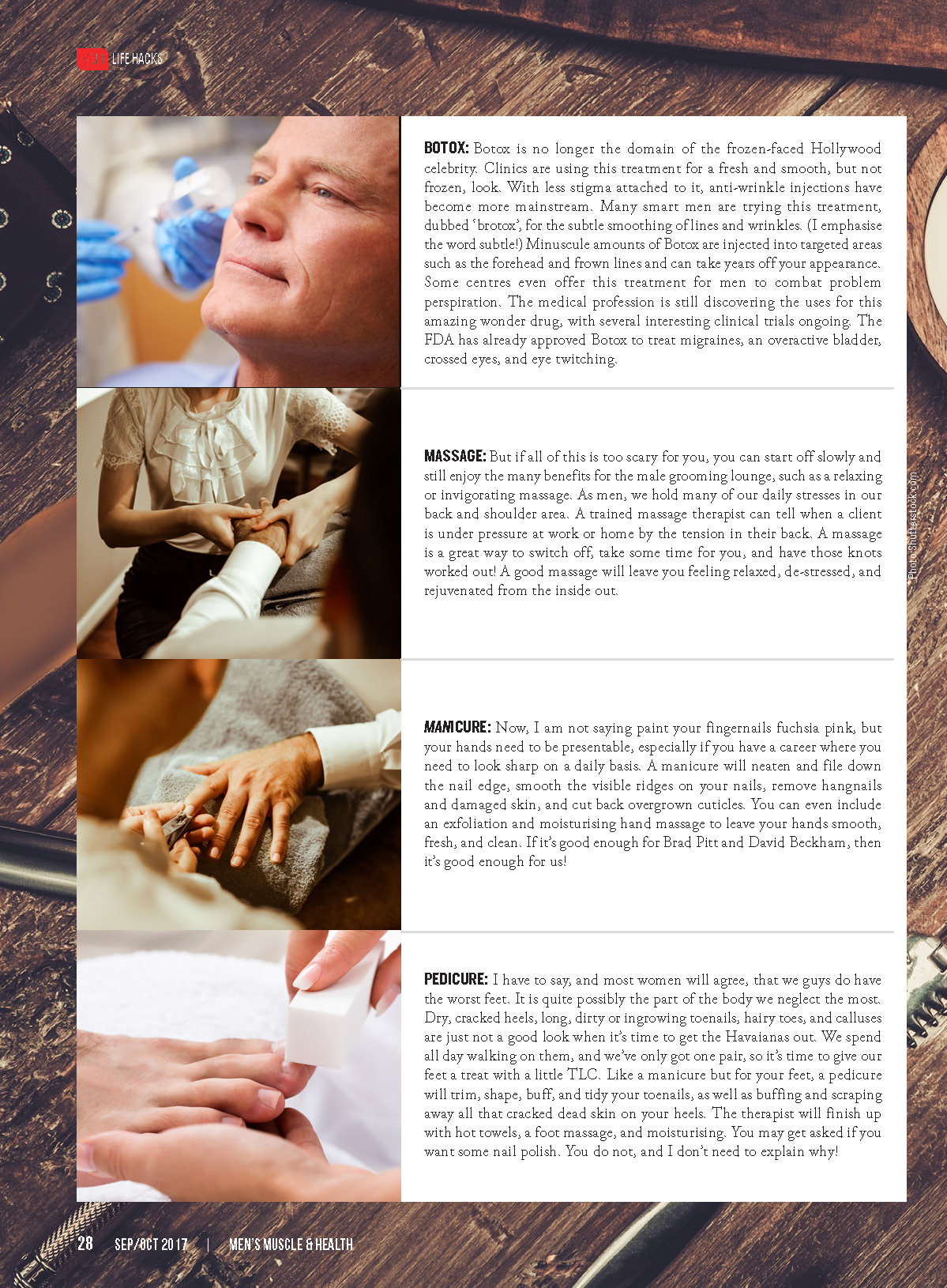 Men's Muscle and Health
Life Hacks – Leave it to the Professionals.
Words Stephen Handisides
You wouldn't try to change your car's engine by yourself, and the same goes for some of the finer points of male grooming, they are best left to the professionals. With this issue of MMH being the transform issue, we are going to look at ways the modern man can transform themselves with a bit of extra help. Now I'm not saying it's time to go under the knife, but why let the girls have all the fun at the Spa. With the rise of grooming establishments just for men, now us guys have an exclusive invite into the world of pampering, and can come out transformed!
Exclusive men's grooming establishments are hugely popular in the UK and the USA and the trend is on the rise here in Australia too. I spoke to Cathriona Flanagan, Head Therapist at Face of Man in Sydney and she agreed, saying that 'Male grooming is the fastest growing aspect in the beauty industry. We have noticed a huge growth in business in the last three years. Men are definitely wanting to look "fresher "and "healthier "for their age.'
These male only establishments focus on high end treatments, specifically tailored for men's skin and grooming needs. These centres look more like traditional men's country clubs than girlie day spa's with luxurious and masculine designed themes, discreet entrances and a welcoming scotch on the rocks, or beer on arrival. You won't get a whiff of lavender scented candles or Enya music here!
If the thought of entering a day spa for men leaves you slightly nervous, let me take out the mystery and give you the low down on what to expect.
The Facial. A facial can mean everything from basic exfoliation, to Microdermabrasion, Peel's, Fractional Laser and IPL. The choices are endless depending on your skins needs and with tailored treatments specifically for male skin, the facial is no longer just for the girls. A good facial will remove dead skin cells, brighten, remove blackheads and clear the skin. More technical treatments can reduce fine lines, pigmentation, freckles, sun and age spots, acne and scarring and enlarged pores. Your therapist will recommend the treatment for your skin type, as well as prescribe take home products such as Aspect Dr or Ultraceuticals that will work for your skin type. Regular facials are a good way to treat yourself, relax and unwind after a stressful day and will make a massive difference to your skin's tone and texture.
Waxing, even the thought of it makes my eyes water, and the idea of DIY waxing, forget about it! Waxing is not for the faint hearted, but if you are a hairy beast then waxing is a good option. You can get everything waxed now, from eyebrows, chest and legs, to the famous 'back, sack and crack' (ouch!). Yes, it is painful, but suck it up princess, the girls have been doing it for years.
Laser Hair Removal is another, more permanent and I think less painful option, to leave your skin feeling silky smooth. Laser Hair Removal works by means of an intense, pulsating beam of light that travels down the hair to the follicle and inhibits future hair growth. The initial cost can be more expensive than waxing, but is more cost effective over time, because after few treatments you will be hair free. Treatments should be every 6 weeks and after 6-10 visits you should be relatively fuzz free.
Fat Reduction. If you're not loving your love handles, you can try fat reduction treatments. These ground breaking technologies battle those stubborn pockets of fat that you just can't seem to get rid of using diet and exercise alone. Targeting those troublesome areas such as the double chin, stomach, love handles and man boobs. Non-invasive procedures such as Syneron Candela's UltraShape Power® or Cryomed Cooltech® are both are relatively painless treatments that break down fat cells and have the backing of clinically proven results, that work.
-CONT-
Botox® is no longer the domain of the frozen faced Hollywood celebrity. Clinics are using this treatment for a fresh, smooth but not frozen look. With less stigma attached to it, anti-wrinkle injections have become more mainstream. Many smart men are trying this treatment, dubbed, 'brotox', for the subtle smoothing of lines and wrinkles (I emphasise the word subtle!). Minuscule amounts of Botox® are injected in targeted areas such as the forehead and frown lines and can literally take years off your appearance. Some centres even offer this treatment for men to combat problem perspiration. The medical profession is still discovering the uses for this amazing wonder drug, with several interesting clinic trials ongoing. The FDA has already approved Botox® to treat migraines, overactive bladder, crossed eyes and eye twitching.
But if all this is too scary for you, you can start of slowly and still enjoy the many benefits for the male grooming lounge, such as a relaxing or invigorating massage. As men, we hold many of our daily stresses in our back and shoulder area. A trained massage therapist can tell when a client is under pressure at work or at home, by the tension in their back. A massage is a great way to switch off, take some time for you and have those knots worked out! A good massage will leave you feeling relaxed, de-stressed and rejuvenated from the inside out.
MANicure, now I am not saying paint your fingernails fuchsia pink, but your hands need to be presentable, especially if you have a career where you need to look sharp on a daily basis. A manicure will neaten and file down the nail edge, smooth the visible ridges on your nails, remove hangnails and damaged skin and cut back overgrown cuticles. You can even include an exfoliation and moisturising hand massage to leave your hands smooth, fresh and clean. If it's good enough for Brad Pitt and David Beckham then it's good enough for us!
Pedicure, I have to say, and most women will agree that us guys do have the worst feet. It is quite possibly the part of the body we neglect the most. Dry cracked heels, long dirty or ingrowing toenails, hairy toes and calluses are just not a good look when it's time to get the Havaianas out. We spend all day walking on them and we've only got one pair, so it's time to give your feet a treat with a little TLC. Like a MANicure but for your feet, a Pedicure will trim, shape, buff and tidy your toenails, as well as buffing and scraping away all that cracked dead skin on your heels. The therapist will finish up with hot towels, a foot massage and moisturising. You may get asked if you want some nail polish? You do not, and I don't need to explain why!
So now I have given you the low down with a bit of demystifying, you've got no excuses not give the Male Day Spa a try. I guarantee you won't look back and you be booking regular appointments in no time. The end results will leave you feeling great, more relaxed and most importantly looking sharp!
Here are some of my top picks for a bit of guys only man scaping:
NSW
Face of Man Sydney www.faceofman.com.au
Man Cave Sydney www.mancavesydney.com.au
ManKind Sydney www.mankind.com.au
Detail Smoother Skin www.smootherskin.com.au
VIC
Manhor Melbourne www.manhor.com.au
ManKind Melbourne www.mankind.com.au
One for Men www.oneformen.com.au
Men's Body Works Melbourne www.mensbodyworks.com
QLD
Archon Spas www.archonspas.com.au/mens-day-spa-brisbane
Stephen Handisides is an international TV presenter, model, journalist and an all-round expert on Aesthetic Beauty and Male Grooming. Stephen is the host of 'The Modern Face of Beauty' series which will be broadcast in the US, UK and Australia. He is regular expert commentator in the UK on ITV's This Morning, GMTV, Lorraine, OK! TV, Five, Sky News, and BBC radio. Stephen writes for over twenty major newspapers, trade and consumer magazines, with five regular columns focusing on the trends in lifestyle aesthetics and male grooming. He also hosts and produces Sky TV's MyFaceMyBody and is the brains behind the Global Aesthetic Awards, held in London, LA and Sydney.
For more male grooming tips and inspiration, check out Stephens Instagram @shandisides Twitter @shandisides and his website and blog on www.stephenhandisides.com 
Picture credits PerfectlyAttired.co.uk