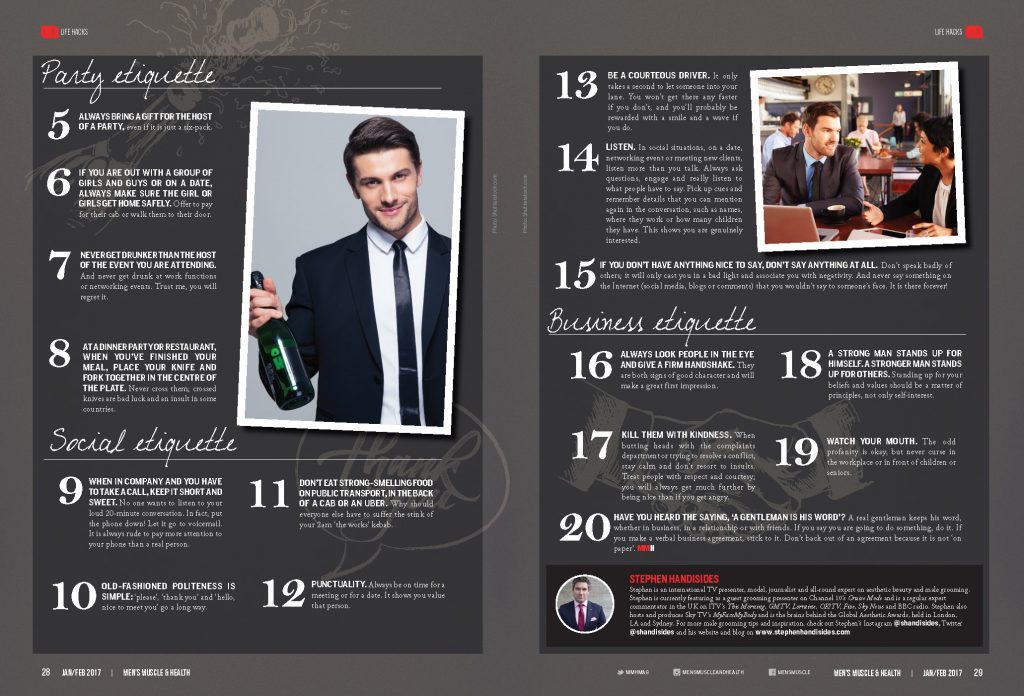 Old school etiquette for the modern gentleman. The ultimate 20 step guide to etiquette for the modern gentleman.
Does the word 'etiquette' fill you with dread and recall flashbacks of your mum or teacher shouting, 'Where are your manners young man?' For us guys, modern manners are a mine field, as we try to navigate political correctness and being a gentleman.
We are all guilty of overlooking our manners and in some cases, not even knowing them. Our generation is the busiest yet, with little time for implementing old school manners. Our lives are packed 24/7 with social media, longer work hours, gym, socialising and trying to find Ms Right (or Ms Right now). With all this rushing around, no wonder we are forgetting basics.
In our quest to become well rounded modern men, nothing says 'Gentleman' more than some good old fashion manners. They're free, won't take up any time, and they can make the world of difference to how you are perceived by others. In business and in our day to day interactions, nothing leaves a more lasting good impression, than a man with manners.
With this modern day guide, you won't have to consult Debretts, (extensive British Etiquette guide used by toffs and royals), to be a modern day gentleman. Old school chivalry isn't dead. I've complied 20 top tips to modern manners. Stick with these and you will impress the ladies, get further in business and you'll navigate the etiquette minefield with ease:
Dating Etiquette:
Always pay the bill on a first date. Never 'offer' to go Dutch. A true gentleman will always pick up the tab.

Research the

restaurant's

pricing

before a date. That way you won't spend the meal, in a

blind, sweat inducing panic if

she orders the lobster.

Treat a lady

like a lady. Open the car door, pull out a chair at a restaurant and help her put on her coat. It's old school etiquette, but she wil

l find you chivalrous and you'

ll earn brownie points.

Never criticize a meal made for you. Even if it is awful, suck it up

. E

at, smile and be gracious.

Don't kiss and tell. Never discuss your romantic liaisons with your mates. Never share intimate pictures online or via text! It will make you look like a total douchebag, will embarrass her and could get you in trouble with the law. Even if you think she really deserves it, be the better person.
Party Etiquette:
Always bring a gift for the host of a party, even if it is just a six pack.

Never get drunker than

the host of the event you are attending

.

And never get drunk at work functions or networking events.

Trust me, you will regret it.

f you are out with a group of girls and guys or on a date, always make sure the girl / girls get home safely. Offer to pay for their cab, or walk them to their door.

At a dinner party or restaurant, when you've finished your meal,

place your knife and fork together

in the centre of

the plate. Never cross them,

crossed knives are

bad luck and an insult in some countries.
Social Etiquette:
When in company and you have to take a call, keep it short and sweet. No one wants

to

listen to your loud

20

minute

conversation. In fact, Put the phone DOWN

! Let it go to voicemail.

It is always rude to pay more attention to your phone, than a real person.

Old fashion

politeness is

simple, 'please' 'thank you' and 'hello, nice to meet you

,

' go a long way.

Don't eat strong-smelling food on public transport, in the back of a cab or an Uber. Why should everyone else have to suffer the stink of your 2am 'The works' kebab.

Punctuality. Always be on time for

a meeting

,

or for a date. It shows you value that person.

Be a courteous driver. It only takes a second to let someone into your lane.

You won't get

there any faster

if you don't,

and you'll probably be rewarded with a smile and a wave

if you do

.

Listen. In social situations, on a date, networking event, or meeting new clients, listen more than you talk. Always ask questions, engage and really listen to what people have to say. Pick up cues and remember details that you can mention again in the conversation,

such as names, where they work or

how many children they have. This shows you are genuinely interested.

If you don't have anything nice to

say, don't say anything at all

. Don't talk badly of others, it wil

l only cast you in a bad light and

associate you with negativity. And never

say something on the internet (s

ocial media, blog

s

or comments) that you wouldn't say to someone's face.

It is there forever!
Business Etiquette:
Always l

ook people in the eye and give a

firm handshake

. They are both

sign

s

of good character and

will make a great first impression.

A strong man stands up for himself. A stronger man stands up for others – Standing up for your beliefs and values should be a matter of principles, not only self-interest.
Kill them with kindness. When butting heads with the complaints department, or trying to resolve a conflict, kill them with kindness. Treat people with respect, courtesy and politeness, y

ou will always get much

further by being nice than if you get angry.

Watch your mouth. The

odd profanity is ok, but never c

urse in the workplace or in front of children

, or seniors

.

Have you heard the saying 'A gentleman is his word'? A real gentleman, keeps his word, whether in business, in a relationship

,

or with friends. If you say you are going to do something, do it. If you make a verbal business agreement, stick to it. Don't back out of an agreement because it is not 'on paper'.
Stephen Handisides is an international TV presenter, model, journalist and an all-round expert on Aesthetic Beauty and Male Grooming. Stephen is currently featuring as a guest grooming presenter on Channel 10 Cruise Mode and is regular expert commentator in the UK on ITV's This Morning, GMTV, Lorraine, OK!TV, Five, Sky News, and BBC radio. Stephen also hosts and produces Sky TV's MyFaceMyBody and is the brains behind the Global Aesthetic Awards, held in London, LA and Sydney.
For more male grooming tips and inspiration, check out Stephens Instagram @shandisides Twitter @shandisides and his website and blogs
Picture credits PerfectlyAttired.co.uk